Saturday 25th August was a
special day for 1 member of the Newstead and District Fire brigade. Lt Jason
McGrath was presented with the Chief Officers Commendation for Courage at a
presentation held at the Newstead Fire Station. The Chief along with his wife
was warmly welcomed and spoke highly of the Achievement that Jason had been awarded;
he presented the award in front of Family, friends and members from local CFA
brigades, Group and District 2. Jason responded that his achievement was a team
effort with both CFA and SES involved. After the presentation a morning tea was
held with the Chief Officer talking to local CFA members.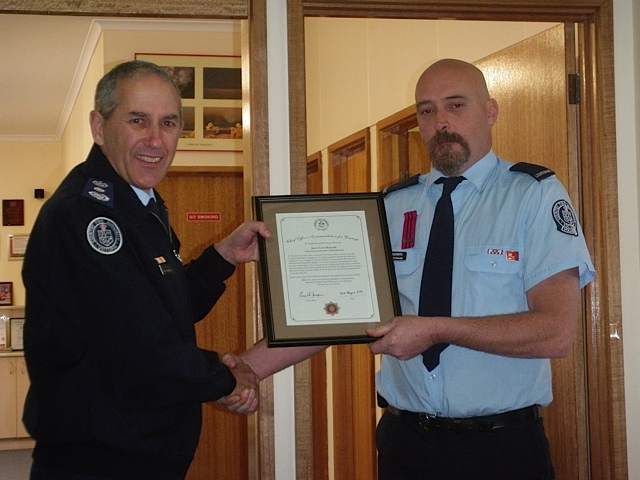 Jason McGraths Commendation.
At Muckleford South on the evening of 27th November, a car was swept
off a bridge by floodwater resulting in a man being trapped in the fast-flowing
water, clinging to a tree. In darkness and poor weather, Lieutenant Jason McGrath
from Newstead and District Fire Brigade assessed the situation and volunteered
to enter the water and attempt a rope rescue, Jason successfully rescued the
man in an efficient safe and professional manner, working closely with the
State Emergency Service members. Jason was willing to put the welfare of others
before his own and was instrumental in saving the man??s life.
By his actions Jason McGrath demonstrated
to the highest level, the spirit of CFA.