YOU TOO CAN COOK IT!
The launch of the Newstead Fire Brigades Auxiliary cook book ( You ToO Can Cook It!) was held on the 6/12/2013 at the Newstead Community Centre. 
Our Story
The Newstead Fire Brigade Auxiliary was formed following disastrous bush fires in the district in the previous year. A public meeting was held on January 6th 1981 with the view to forming an auxiliary to support our local Brigade. The aim was to support the Brigade by providing food in emergency situations and to raise funds to purchase Brigade Equipment.
in the early years we supported the Brigade with food and refreshments in emergency situations. Today,due to regulations food is supplied by contracted organizations.People present at the meeting that night in 1981 donated $58.55 to the newly formed auxiliary to enable us to open a bank account. Fund raising became a priority and we set about running competitions with decorated cakes, jewelry, Easter eggs and food hampers etc,as prizes.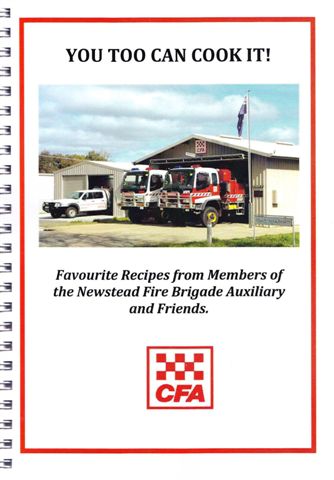 Our fundraising efforts were always well supported by the community, as they are today and we continue to be very thankful for the support.
April 22nd 1981 saw us on our first catering exercise. A Brigade awards night was held and ladies were asked to bring "a plate". Sandwiches and cakes were provided for supper that night and we have pleasure in continuing to cater for Brigade functions to this day.
On March 25th 1984 we catered for the region 15 Fire Brigades Demonstration which was held in Newstead. This event was our first paid catering venture and catering has since continued to be a major fund raiser.
Today we financially support our Brigade with funds raised by catering for functions and the proceeds from the bi-monthly dances. In 1995, our auxiliary took over the running of the dances from the Newstead Lions Club. Eighteen years later the dances are still well patronized,good revenue raisers and are well known for the delicious homemade suppers.
One of the first donations we made to the Brigade was in 1985 a donation of $200 towards the new tanker appeal. The station extensions, the support vehicle, funds towards a new tanker are just some of the projects we have supported since then.
It is thirty two years since this auxiliary was formed and our commitment to the ongoing support of our Brigade is as strong today as it was all those years ago. Providing financial support for equipment to the Brigade makes our work most rewarding. And so to the future and our next fundraising venture...............
After 30 years our auxiliary is busier than we have ever been.We continue to run our bi monthly dances as fundraisers;. And these dances are still continuing to be as popular as ever.Could it be that our homemade suppers are part of the attraction?We are also available to do catering for functions in the town by arrangement.The aim of this auxiliary is to raise funds to enable the Brigade to be able to implement improvements at the station / purchase any additional equipment that may be required.We are always looking for new members to bolster our membership numbers and any new members will be made most welcome..If you would like to join our auxiliary, you can contact Secretary Joan Sartori.5476 2267.
We have two committee meetings per year, one in March and the Annual/General meeting in October. Other meetings are called as required.
Newstead Fire Brigade Auxiliary News.
Annual /General Meeting.
The annual /general meeting of the auxiliary was held on October28th.2013
The bi annual elections were held and office bearers for the next two years are as follows;
President; Florence Hepburn
Vice President; Janet Trudgeon
Treasurer; Carmel Longmire
Secretary; Joan Sartori
It was pleasing to welcome new member, Mary Park to our meeting. Mary we are very happy to have you on board and we hope that you will enjoy the time spent as a member of our auxiliary.Our recipe book fundraiser has been a great success. We quickly sold our first 200 plus books, we ordered another 100 copies and they too are selling very well.(and are still on sale).We thank the Maldon & District Community Bank Bendigo Branch for their very generous $2,200 sponsorship. We used these funds in the printing, producing and marketing of the recipe book..The assistance and interest we received from the community in the compilation and marketing of our book is most appreciated .Newstead Friendly Grocers, Newstead Butchers, Newstead Post Office and the Rural Transaction Centre Newstead have all assisted us with the publicity and marketing of the book, we are very grateful for their help and we thank all concerned.. To all who have supported this fundraising project and purchased our book, your support has been invaluable.. The money raised from this project will go to the BrigadeWe continue to raise funds with catering and the running of the bi-monthly dances.As this hot summer continues and the fire danger increases, we all recognize and thank our brigades for their efforts in controlling fires and keeping our communities safeTo maintain our auxiliary membership levels and our fundraising momentum we need new members to join our auxiliary. We welcome anyone who is able to come along and join us in supporting our brigade.We meet regularly twice yearly or more often as the need arises. Apart from the bi monthly dances our catering is mainly by public demand.We make every effort to share the workload around among everyone. No one is expected to be available for every event we cater for.The brigade needs our support, just as we need their support in times of emergencyRaising funds and providing equipment which our 'firies' need to keep our community and themselves safe is what we are all about
.Please come along and help us do just that.
Joan Sartori
Secretary Fire Brigade Auxiliary
Ph.5476 2327 .email; joan.sartori@bigpond.com